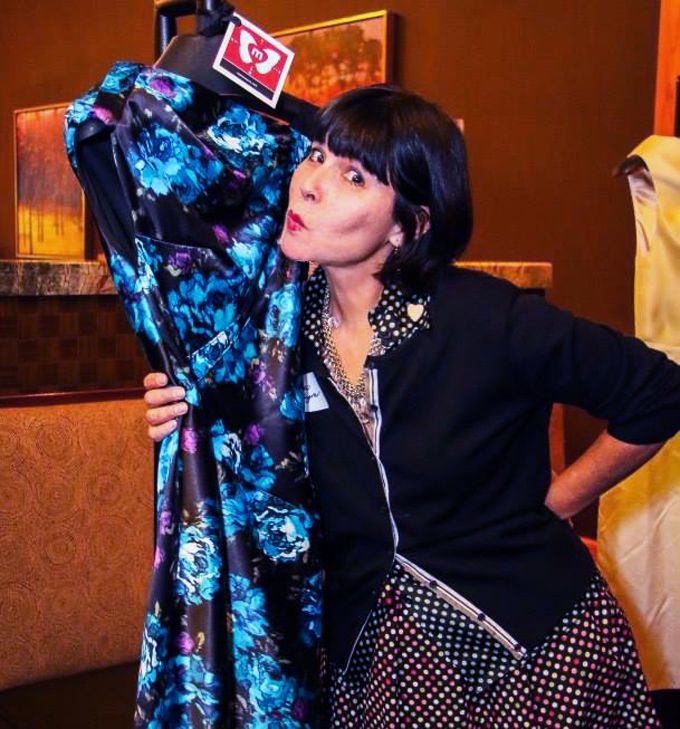 Art and fashion should be colorful, unexpected, and inspirational. Art and fashion aren't frivolous. They help us through the difficult times; inspire us to understand each other and to appreciate life. They give us hope. –Mona
passion
Mona has a love for both fashion and art. This results in clothing that is often whimsical, frequently elegant, and always unexpected. She specializes in making designs that make every "body" look great and believes her mission is to help each person find their personal expression: indeed, a devotion to style.
training
Her training, a Bachelor of Fine Arts from the University of Colorado at Denver and an Associate in Fashion Design from the Fashion Institute of Technology in New York, have enabled her to bring together the two disciplines into her signature style. She often incorporates fine art techniques and concepts such as found objects, collage, and sculptural shapes in her designs.
awards
"Best of" awards from Denver's Westword, 5280 Magazine, and Fashion Group International, and nationally from City Magazine in New York City.
Featured in the Denver Post, Rocky Mountain News, and 303 Magazine.
Recognized as one of Denver's top designers for the Fashion Project Contest at Tamarac Square.
Received Westword's coveted Fashion Mastermind Award.
Nominated for Favorite Local Fashion Designer by 303 Magazine in 2015.
bio
Mona's first memory is of drawing her grandmother's portrait on the side of a shoebox with a crayon. She thought the drawing captured her grandmother perfectly and at that moment, her dream was to be an artist.
Born in San Francisco and growing up in Grand Junction, Colorado, she moved to Denver to start art school and graduated from the University of Colorado with a Bachelor of Fine Arts degree. While there, she was inspired by soft sculpture and wearable art. All the while dressing as eccentrically as she could think, in her senior year, she found a new love in fashion design.
She moved to New York City to graduate with an Associate in Fashion Design at the Fashion Institute of Technology. She has worked in a variety of fashion industry jobs including assistant patternmaker, screen print artist, technical designer, and activewear designer. She has costume designed for several theatre companies and dance companies such as Cleo Parker Robinson Dance Theatre, El Centro Su Teatro, and Elitch Gardens Historic Theatre Company.
In 1993, in her constant search to bring together art and fashion, she designed and created her first hand-dyed and screen printed collection and began to wholesale her bags and clothing to fashionable shops. From 2002 to 2012, she sold her designs and other Denver and international designers in her eponymous boutique in Denver's Lower Highlands neighborhood.
Mona is involved in community and is the head and co-originator of Fashion Association of Denver. She serves on the Blue Ribbon Commission of Denver's Arts & Venues Imagine 2020 Arts Initiative and is an advisor to Denver Architectural Foundation.
In 2012, she redirected her focus on the creation of unique pieces – each custom designed for individual clients and will soon be selling her beautiful designs at MonaLucero.com.
Ƹ̵̡Ӝ̵̨̄Ʒ