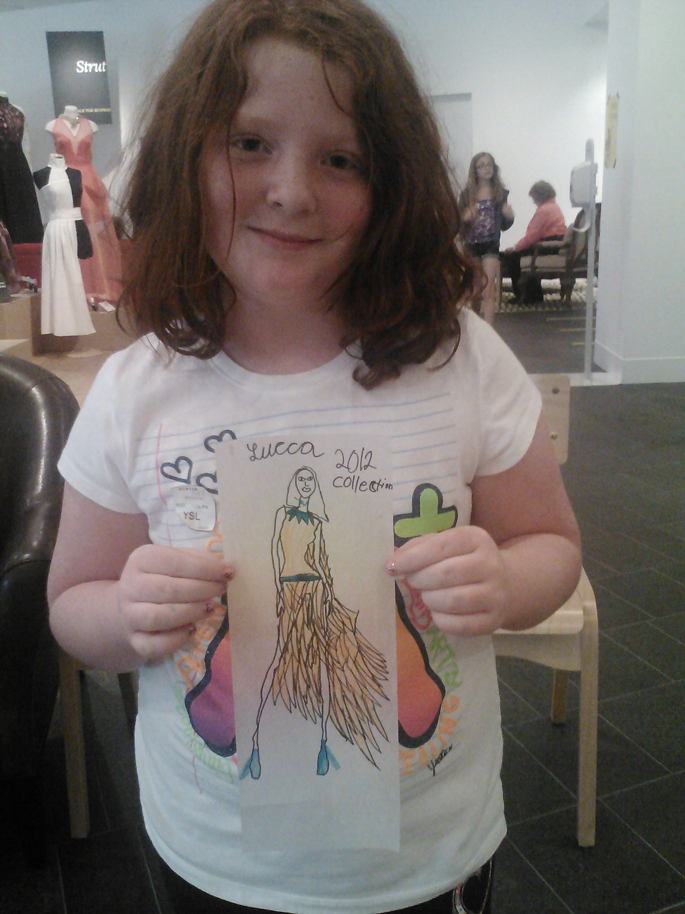 My second day "demonstrating" design at the Denver Art Museum designer studio was really fun! It was very hard to demonstrate, though, as I got a lot of people coming in to ask questions. I explained the process of haute couture to someone who works at the Denver Art Museum. I found it surprising when a few people asked me if Yves Saint Laurent sewed everything…Hoo, boy, that would take several lifetimes of working 24 hours a day to accomplish that. Makes me think of a Brothers Grimm tale…No, Yves Saint Laurent had the best seamstresses, patternmakers and drapers working with him. All couturiers have only the best. Have trouble sewing on a button? Well, these people do not and they would sew it so perfectly that you would think they had made it as if by magic (almost).
I met a very interesting designer from Kansas City, Ann Brownfield, who said she has started a museum there – a tribute to the 75 garment factories that were once there. She said she longed for the days when people dressed up…I understand that myself, even though I don't dress up a lot, I get a little sad when I see that so many people don't care at all anymore. It's a karmic situation, though, as we all will look back on our photos and say, "Oh, there I am wearing a t-shirt and jeans. Oh, and there I am also wearing a t-shirt and jeans…"
Here's the link to the Kansas City Historic Garment District Museum site: http://www.kcgarmentmuseum.org/ .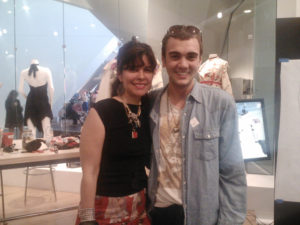 I also had a great discussion with an industrial designer. He creates and revises machines – such as copiers and other such equipment. He had a lot of questions about my process and of course, we found similarities in our creative processes. A grandfather bought one of my special YSL bags from the gift shop for his granddaughter who had asked me questions previously. It was very nice – and I signed "Happy Birthday " , XO, and my name on my price tag for her birthday. Very sweet.
My former intern, Chris, dropped in with his parents to say hi. He didn't realize I was going to be there but was happy to see me and we caught up – although we're both on Facebook and we pretty much know what's happening with each other if we only take a look at each other's profiles…haha! He's in design school in New York and is also modeling. I'm so excited for him as I know from experience how much living in New York can do for how one views the world.
One of my favorite moments so far was when I met Lucca. Her grandparents told me that while they were walking through the YSL show, Lucca couldn't wait to come down to talk to me. She sat patiently while I was talking to someone else and then finally, her grandfather said, "My granddaughter would like to show you something." So Lucca tentatively came up to me with a fashion sketch she had done. And it was really good! You'll see the sketch above.  It says, "Lucca 2012 Collection". Then she showed me photos on her I-Pad which she had taken of her dolls wearing very cool clothes. I forgot the name of the dolls but they were pretty cool. So she took photos of one of the dolls in various poses and including laying the doll/model in the grass in a very professional photo shoot kind of way! It was wonderful and impressive and so much fun! The media access that children have now is changing the world – and in Lucca's case, in a great way. It was a pleasure to meet her.
I'll be back next week and in the meantime, I need to do some more work on the appliques/rosettes/etc. so that I can actually start seriously applying them.
Sartorially yours,
Mona